Knitting and Crocheting
[ Return to Main Page ]

As you can see from Kirstin's blog, I tried to teach her to knit on Saturday. I think we were pretty successful with knitting, but not so much with purling. I guess another session is called for.

Two years ago at Thanksgiving, my mother taught me to long tail cast on, knit, purl, and cast off. Everything else I've done by reading about it. I didn't realize that I knit left-handed (continental or German style) until I started knitting hats and scarves with the church ladies in Ohio. Several of them noticed and asked me about it, but I didn't know how to explain it except that it's just the way I learned. They seemed envious because I could go pretty fast and there was no yarn "throwing".

Teaching knitting is HARD. I honestly don't know how to describe what I do in words. I can demonstrate, but it seems like I don't know the terminology to describe what I'm doing - I just do it. If any of the rest of you want to learn, I'll be happy to demonstrate, but you'll probably learn better from a place like knittinghelp.com by watching videos and reading about it. That site has demos on cabling without a cable needle and other advanced things too.

Despite my inability to explain myself, it seems like Kirstin has it figured out, and the fact that she was interested enough to pick it back up again the next day without me is a good sign. There was lots of swearing on Saturday when I was there. When she called me to ask for help on Sunday I was at the grocery store, and trying to think of how to explain the backwards loop cast on without demonstrating was more mind-bending than I could handle.

I really enjoy knitting, it's probably my favorite hand craft. It's portable, it takes up very little space (until I build my huge yarn stash), I can do it and watch tv (as long as there are no subtitles), I can talk and knit at the same time, I love the feel and colors of yarn, I enjoy turning a long string of yarn into a piece of fabric. After my mother taught me to knit, I worked on a scarf the whole 9 hours back in the car to Ohio (except maybe an hour or two when I was driving and Brian was resting). Since I learned to knit, my quilting has really suffered. Now that I've been introduced to machine quilting, that might change...

There are some scarf patterns that I'd love to try: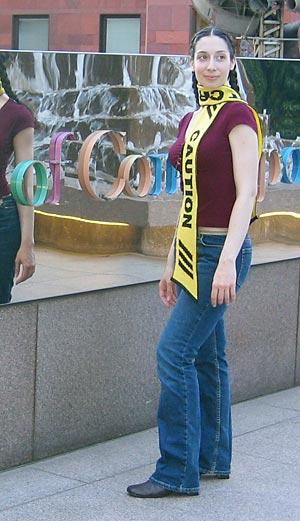 Crime of Fashion

Actually, it's kind of funny that I just now ran across a reference to a "Crime Scene Scarf" on the cover of the current edition of Craft Magazine:



Binary



Vertigo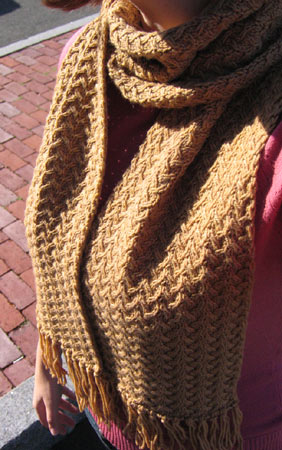 Shifting Sands



Palindrome (I like the idea of completely reversible cables)


If only I could find people to proudly wear them. I'm getting to the point where I have way too many scarves myself, it's getting ridiculous. That's where the unappreciative husband comes in. When I asked him if he'd like a Binary scarf, he replied "No, I don't really wear scarves." Which is true, because he never wears the one I crocheted for him either, but you'd think he'd be proud to wear a Binary scarf!

Keep in mind that if you commission me to make a scarf you probably won't get it until it's getting cold NEXT year.

3 comments. Last comment by phaedra.

As you can see below, I've taken a break from socks to do something else. Not that I can't do more than one thing at a time, I actually started another sock and then set it aside to do this double-knit scarf. My collection of UFOs (UnFinished Objects) includes a grey cable scarf and a miniature version of the lace Madli's shawl in pink. Someday I'll work on those again.

Anyway, I finally got around to taking a picture of the socks I've completed. The top pair is going in someone's stocking at Christmas. I've already worn the bottom pair, so that's why they look a little stretched out, besides the fact that the leg isn't ribbed on the green and blue pair.


I've read about double knitting, where you knit a double thickness fabric that is reversible and is right sided on both sides.

I wanted to try it, so I'm trying this pattern (because if you're going to try something, why not just jump right in?).

Double Knit Scarf

Unfortunately, the yarn I chose is pretty bulky, so I'm not sure if the pattern will show up quite as crisply as in that picture. Just what I need, another scarf!

Actually, my favorite scarf that I bought last year has some holes in it (moths?). It was machine knit in a manner similar to double knitting and I can't quite figure out how it was constructed.

So far I'm very pleased with my progress. I managed to figure out how to double knit, and other than the fact that the stitches look huge since I've been knitting socks for a few months, I'm happy with the result. It's purple with white designs on one side and white with purple designs on the other.

Update: Here are pictures - note that one side is white with purple designs and the other is purple with white designs. It looks better in the pictures than it does to me as I'm knitting it. I guess I need some perspective. Sorry it's all scrunched up. I'm too lazy to thread in some scrap yarn so I can take it off the needles. I'm like 1/16th of the way through. I'm very glad that lace knitting taught me to read charts, although this is pretty easy because it's symmetric.


I just finished these socks knit from Cherry Tree Hill Supersock yarn. These are only my second pair of finished socks (I've tried others that I've given up on...)

I learned some things: I definitely like the toe-up approach, I like short-row heels, I should make the circumference a touch smaller so they fit a little more snug, I don't like the look of 3x3 rib, maybe I should do stockinette all the way up and a little rib cuff at the top, I don't need to increase at the ankle, and a stretchy bind off is a wonderful thing.

My parents bought me a bunch of sock yarn, so it's time to try another style. I think I might try these next even though it's not toe up or short-row heel and it looks HARD.

Now how am I going to wear these blue ones? Do I have to become a socks-with-sandals person to show off my work?




There's something up with my knitting. One side of the stitch looks a lot tighter than the other. Hmmm....